Based on liquidity demand, the US Dollar is going to 80 before rolling over. As you can see the Dollar has to play catchup with liquidity needs. Rising liquidity demand is a risk-off trade. Since the Dollar is so highly negatively correlated to the equity markets, we would expect over the next month the S&P 500 to head down below 1250 before heading back up to 1400 by the end of the year.
ECB rate expectations are coming down dramatically even with the rate hike in July that is sure to occur. This will cause the Dollar to go up.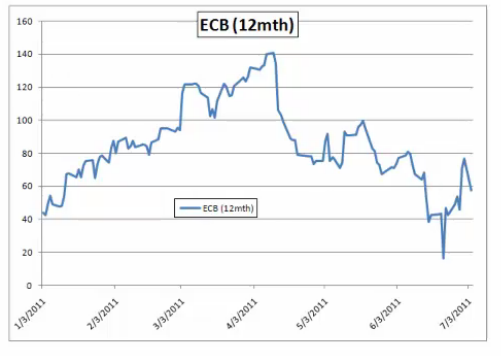 What should concern everyone is rates for Greece, Ireland, Portugal, Spain and Italy are still quite high, indicating the problem still exists as they kick the can down the road. If Greece were to go bankrupt NOW with structural reforms this would strengthen the Euro, but they are just making the problem worse, because they are incapable of enough austerity to prevent bankruptcy, so bankrupting on a larger amount of debt later is far worse and problematic than going bankrupt now. As the debt piles on, inefficiencies mount.